All our panel builds are designed and manufactured to the following criteria (unless otherwise specified by the client):
Any item within the control panel that may have a high surface temperature such as break resistors or anti-condensation heaters etc, will have appropriate warning sign nearby.
Terminal rails will have space for 20% spare terminals. The spare terminals shall have blank markers fitted to allow the terminals to be labelled on site if required.
20% space shall be provided in all trunking as a minimum
All DC and AC circuits in the control panel trunking will be segregated where possible
All Inverters shall be wired on the outputs on site with the CY cable shield going directly to the inverter shield plate
A drawing pocket for placing the schematics will be provided inside the door of the electrical cabinet where space permits. This pocket should be of sufficient size to hold all manuals and documentation for the panel.
All power contactors within the control system shall have suppression fitted across the coils. Terminal rail for external field cables will be mounted on angled brackets for easy installation.
A separate earth bar/ terminals will be mounted within control panel for termination of all earth wires. All earth terminations shall only have one conductor per terminal.
Minimum testing requirements on any panel will be: Continuity of the protective bonding circuit, Insulation resistance tests and Voltage Tests
Protection against residual voltages. Functional tests.
All wiring shall be numbered, which shall correspond to the wiring diagram.
Wiring Diagrams, 2D & 3D Layout provided in EPlan P8 format & pdf.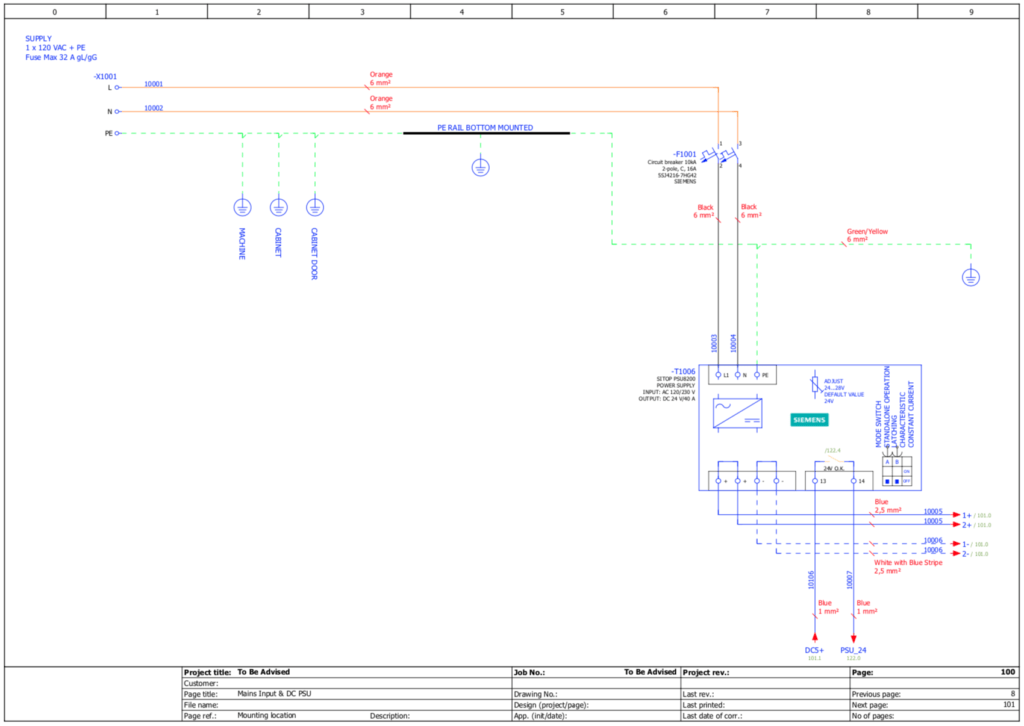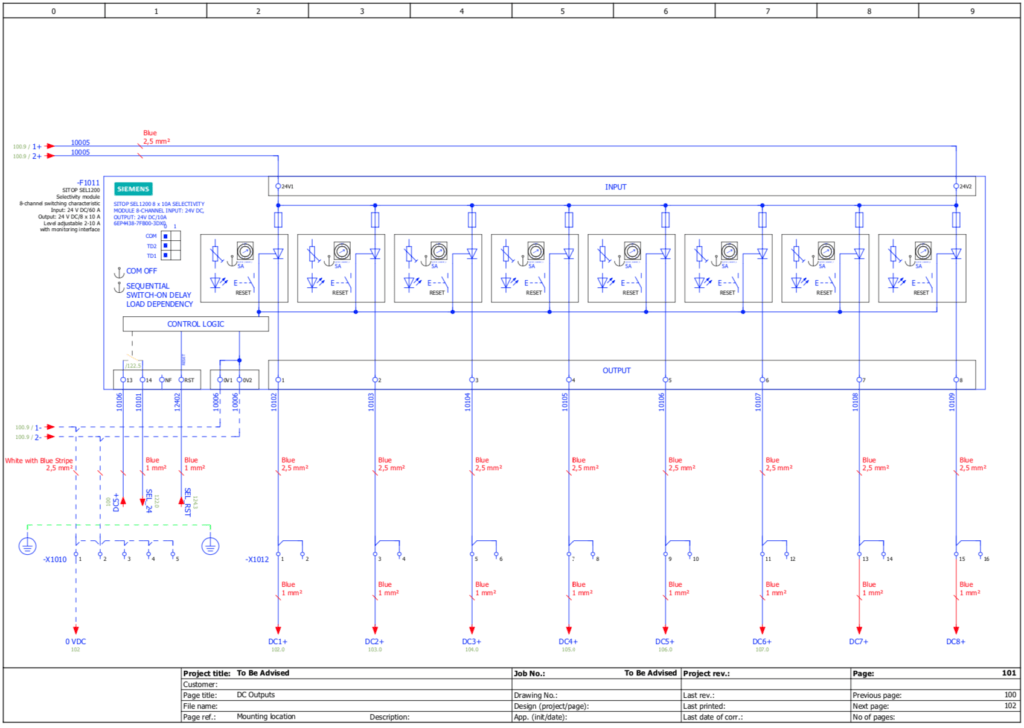 Minimum testing requirements on any control system / control panel will be:
Visual Inspection, Point to point wiring tests, Continuity of the protective bonding conductors, Insulation Testing of the bonding conductors, Insulations tests of any Mains Incomer Wiring and/or busbars. This exceeds requirements under EN60204-1 section 18.2.2 test 1.
Fault Loop Impedance verification, will be carried out as per requirements under EN60204-1 section 18.2.2 test 2. This will be verified by calculation or measurement and confirm that the characteristics of the automatic disconnection of supply device is suitable.
Insulation resistance tests on power circuits, typically 500V DC on mains circuits, The value will not be less than 1MΏ
Voltage tests, according to EN60204-1 clause 18.4 the test voltage will be twice the working voltage or 1000V whichever is greater and should be applied between the power circuit conductors and the protective bonding circuit for a period of 1 second. No disruptive discharge should occur in order to satisfy the test. Components that cannot withstand the test voltage will be disconnected before testing.
The test certification provided will include the name of the tester, the instrument used and the calibration date, It will also note the actual measurements.
Functional tests i.e., all contactors and relays will be energised and confirmed working correctly either by driving by the circuits or by simulation (if full test is not possible)
Safety Control Relays will be confirmed by ensuring correct operation including testing of the reset circuit to confirm this will not reset until all feedback contacts are healthy, and ensure that the unit does not reset in the event a feedback contact should remain open.
Safety PLC's will have a simple safety circuit added to test any Emergency Stops, Contactors, Inverters and Resets. An example of this would be programming a simple test circuit for a Siemens Safety PLC – ET200SP – with TIA Portal to test the safety wiring in the panel.
Any earth fault detection circuits will be tested.